Student Participates in Summer STEM Program, Meets World Acclaimed Inventors, Scientists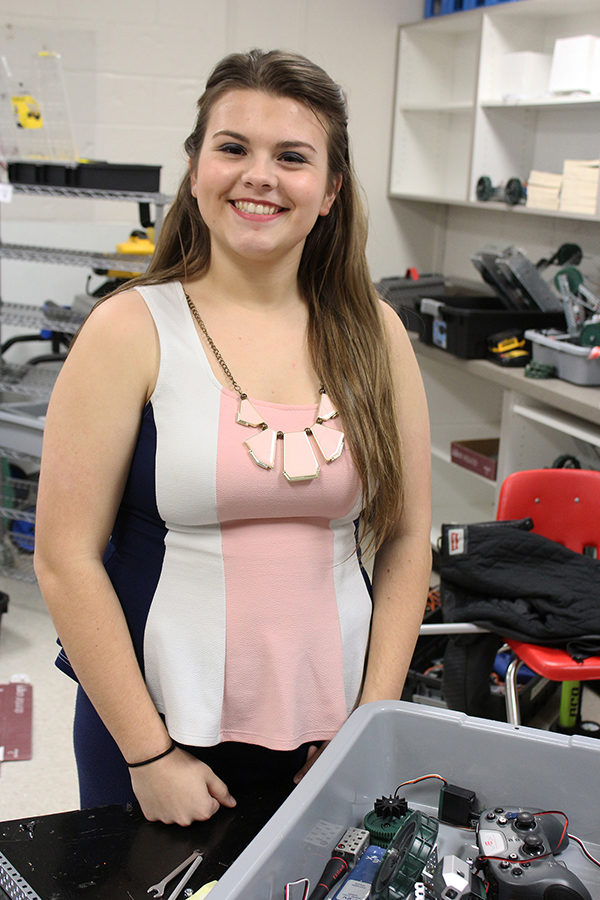 Hang on for a minute...we're trying to find some more stories you might like.
While most students spend their summer lounging by the pool, junior Rhiannon Roberts spends hers at the National Academy of Future Science and Technology Leaders conference in Boston, Massachusetts.
"I got a letter in the mail from the academy inviting me and that was the first time I had ever heard of them," Roberts said. "My mom and I did some research and decided on a payment plan."
Roberts has now attended the conference twice.
"I got invited the beginning of my freshman year and went that summer," Roberts said. "Then I got invited back as an alumna this past summer."
To be nominated, Roberts had to maintain a 3.5 grade point average (GPA) and be nominated by a teacher or another adult.
"The letter that I received said that I had been nominated by someone, but I have no idea who," Roberts said. "It also included that the reason I was noticed was because of my outstanding grades and achievements over the years."
The conference, nicknamed "the Congress" by the director, Richard Rossi, consists of an array of speakers. These speakers include Google Science Fair winners, Nobel Peace Prize winners and prominent inventors.
"[The speakers] told us their story of how they became who they are today or how they achieved their goals," Roberts said. "They gave us advice about how it's okay to make mistakes, start over, and sometimes not even know what you want to do or how to get to where you want to be. During [breaks] we had a chance to meet the speakers one on one, ask them questions, take a picture and get their autograph."
Before she attended the conference for the first time, Roberts said she was nervous and did not know what to expect.
"I can be a very anti-social person when it comes to being around people I don't know," Roberts said. "But, I thought the trip would maybe help me get passed some of those nerves and be able to talk with others easier."
The conference spanned three days. Roberts chose to travel with her mother, because it was her first time visiting Boston. Once she arrived, Roberts was shocked at the size of the venue.
"Of course, me being my shy self, I told my mom I just wanted to find seats and sit down," Roberts said. "So, we sat toward the top of the arena. Once it began, it started to become super exciting because of how enthusiastic Richard Rossi was about all of us being there. After he talked to us for a little bit, the speakers started to come up. I found their stories so interesting and aspiring because some of them started off worse than I would consider myself education wise."
Between speakers, the conference incorporated Q&A discussions through Twitter.
"I found them really cool because they let us interact with [the speakers]," Roberts said. "The next day, I sat at the bottom of the arena working up some of my courage to be more involved."
Some speakers brought devices and gadgets they had invented or where working on.
"Some of the speakers I will never forget because their stories are so inspiring and amazing," Roberts said. "Sadly, I never took the opportunity that year to meet any of the speakers one on one because I was just way too nervous."
On the final day, the Congress held a glow stick candlelight ceremony initiating the attendees into the academy.
"The ceremony was so amazing and beautiful with thousands of lights on the arena floor just lit up together," Roberts said. "I even still have the glow stick I was initiated with. After the ceremony, there was a party. [There were] glow sticks flying everywhere, plastic beach balls being thrown throughout the crowd. Some kids even tried to crowd surf."
Once her time at the conference was over for the summer, Roberts decided to visit colleges in the area.
"[My mother and I] visited about five colleges, including MIT and Harvard," Roberts said. "We planned to do more but sadly we weren't able to. Getting around Boston is very difficult and frustrating. Boston is basically a college town. If you go two miles in any direction you'll run into some type of college."
After leaving Boston, Roberts said she was already looking forward to attending the conference again.
"I found it to be an amazing experience," Roberts said. "I was sad that it was over."
The second time Roberts attended the conference, she was a lot more excited because her best friend, senior Steffanie Weier, was invited to the medical branch of the Congress. Weier was allowed one guest.
"Steffanie was invited to the Medical Congress, so I traveled up [to Boston] with her and her mother," Roberts said. "I was even more confident and excited this time because I knew how everything worked and I had opened up somewhat and had gotten to experience the Congress."
Roberts' boyfriend, junior Embibel Amenu, also chose to attend the program. Roberts made a lot more friends the second time she attended the conference.
"Every once in awhile we message each other and catch up, but it's hard because we live in different states," Roberts said. "One person [I met] was playing with a Rubik's cube and he could solve. I was so entranced and interested by it, so he taught me how to solve one. Sadly, I don't remember everything, but I do know how to solve two layers of the Rubik's cube because of him."
Roberts said the most memorable experience from both years was meeting theoretical physicist Sylvester James Gates.
"He was the first African American physicist," Roberts said. "He discussed the mysteries behind space, such as supergravity or superstring theory. He is one of my favorite speakers over all because the topics he discussed are things I find to be very interesting and would like to even study in college."
As part of her membership with the Academy, Roberts receives weekly emails with videos from the Congress.
"[The videos] give advice about school, college [and] finding your path in life," Roberts said. "I find it very useful because they have answered many questions that I had."
Roberts said that attending the conference multiple times has made her optimistic about her future. She is not afraid to acknowledge her accomplishments.
"Going into the first year, I had just finished my first year of high school," Roberts said. "I still was confused about [what I wanted to do]. After leaving the Congress, [I learned that] I don't always have to try to be perfect and that it is okay to make mistakes or no completely know everything."
Recently, Roberts was invited back to the Congress as a mentor. A mentor works behind the scenes during the conference, helps the speakers set up and leads Q&A sessions.
"I feel really honored to get the chance to be a mentor," Roberts said. "[I will] be able to go backstage and have access to every part of the Congress."
Roberts is enthusiastic about her third trip to Boston, especially since the following year she will be a senior and applying to college.
"I have always strived to be the best at everything and be involved in everything," Roberts said. "Advice given [to me] throughout the Congress made me realize that I don't need to be involved in a thousand different things to be successful. All I need to do is always try my best and put all of me into everything I do and never give up."

Emily Molden, Photo Editor
NGHS's resident camera girl. Photo Editor. Class of 2018. Lover all things historic and most things edible. Robotics & HOSA & Social Studies UIL...