Swim Season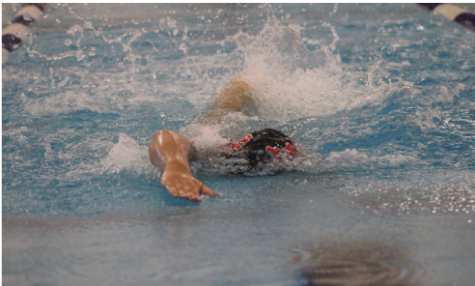 The North Garland high school swim team has had a good season so far. Few are able to check in on the NGHS Swim team often due to meets being held at the GISD Natatorium, so here is a small recap of the team's progress..
The members of the NGHS swim team all have different motivations as to why they wanted to join.
"I wanted to find a new sport that challenged me in learning new techniques and also getting into better physical shape," JV Senior Emma Moore said. 
Some reasons for joining the swim team are also more personal, and some have even swam since childhood. 
"I first learned to swim when I was about seven or eight years old. After trying track and cross country I rediscovered my liking for swimming and tried out the school district's competitive team and have had a love and passion for it ever since," JV Junior Zafira Zim said. 
Swim keeps its competitors in shape both physically and mentally,  and there is always room for growth. 
"I struggle with self-applied pressure and anxiety before meets, so much so that I have had to skip meets because of panic attacks," Moore said. "However, I have overcome this by focusing on one race at a time and not overwhelming myself with expectations."
Self-development can take anywhere from minutes to years and it's not the kind of process to rush, just like to improve in sports, you have to be patient and in it for the long run. 
"What I struggle with the most since the beginning of the season is my breathing technique, flip turns, and both the breast and butterfly stroke," Zim said. "Though I still struggle on all of these, I've considerably improved."
Most members of the swim team are in it for the long run and don't plan on going anywhere until they graduate. 
"I have been swimming competitively since my freshman year, so I have done about 30 meets, approximately eight per season," Moore said. 
Coach Wiggins, Hafner, and Henderson are not short when it comes to motivation and determination, they push their players to be the best they can be, as people and swimmers. 
"Our coaches do a good job at helping us push ourselves to the max but also realizing that working hard will give us successful results," Zim said.