Who are the Valedictorian and Salutatorian?
It's that time of year to acknowledge the people who have put in tremendous effort into their academics throughout the years. For the 2021-22 school year, Daniel Nguyen was awarded Valedictorian, and Stephen George was awarded Salutatorian. 
"At the beginning of the year when I found out I was in the running, I researched GPAs and kind of found out how it was calculated," George said. 
Students have the opportunity to take advanced classes and Advanced Placement (AP) classes that are weighted on a greater than the normal 4.0 scale. Nguyen and George both stated that these classes benefited their Grade Point Averages (GPA) the most.
"My junior and senior year I especially started hard hitting on those college level advanced math classes which really boosted my GPA," Nguyen said. 
While taking these classes, Nguyen was able to end fall 2021 with a 4.89 GPA, and George with a 4.86. The students acknowledged that these classes challenged them, but they continued to work to get to their current positions.
"Planning ahead and having a good foundation in my education was really important," George said. "My math and science background was good for building onto new topics."
Nguyen is involved in the school band that performs at football games, competes in UIL, and participates in many other time consuming events. While it can be tough to coordinate so many things, Nguyen learned to manage his time well in order to keep up.
"I just kept up the hard work and found what time I could work and what time I could focus on myself," Nguyen said.
According to the National University, procrastination affects 86% of students, and although both Nguyen and George were faced with the bad habit, they both overcame it.
"I faced procrastination," George said. "That's why setting your priorities straight is so important. I try to get my assignments done quickly even if it's due a month out, so I don't stress about it."
George and Nguyen recommend st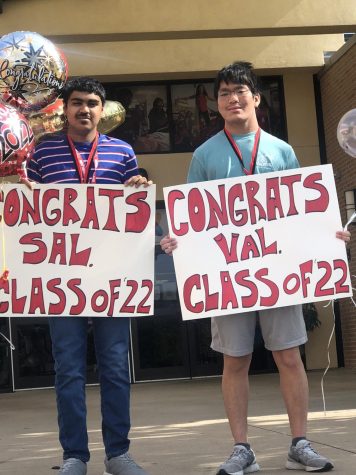 udents support their friends and check up on each other to do their assignment. They believe friendships should be a two-way street where everyone can excel academically.
"Having a good friend group is really good," George said. "All the higher ranking people keep each other in check and help each other out." 
George and Nguyen are planning to go to University of Texas at Dallas (UTD) to major in computer science. George also wants to minor in math because he's obtained a great amount of math credits from AMS. Nguyen also is interested in minoring in math, specifically statistics. 
"My mom came to give her children a better life," Nguyen said. "I see her working hard in her nail salon, and I want to work hard myself so I can live out the opportunity she set for me."