The Faulty Endearment Launch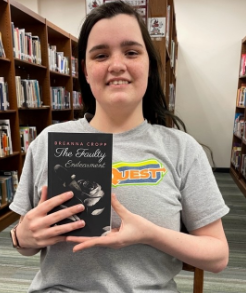 The year was 2020 – the virtual year-  while many students found it as a time to slack off and not care for any subject, freshman Breanna Cropp took a heightened interest in creative writing class and became inspired to write her own story. Now a Junior in 2023, Cropp is publishing her first book with the works of a second and third installment on the way. 
"The Faulty Endearment" started as a passion project for Cropp but later became a goal to share with the public after finishing.
"I got into writing because of a creative writing assignment given to me by my Freshman English teacher, and I just sort of continued," said Cropp 
"The Faulty Endearment" is a modern fantasy book that follows the adventure of Princess Juniper and her friends in the quest to stop a melogmanic war general who is using his power to manipulate the youth. In their quest, they face dangers not only physically but mentally. Even with the powers that Princess Juniper possesses she herself isn't sure if can succeed in this powerful quest.  
"I don't know exactly where the idea for this book came from," said Cropp "It just kind of happened."
While "The Faulty Endearment" is a modern fantasy, that is not the only way to describe it.
"From what I got, the book may be a fantasy, but [it is] also about family, friends, and facing your fears," said Librarian Debbie Reed.
Reed has been helping Cropp since the beginning of her writing process by observing  her work and being there through her process. To celebrate Cropp's accomplishments, a book signing event was held in the library to celebrate its publishing.
"It has just been exciting to see the process go through for her," said Reed. " We [the library staff]  decided at the beginning of the year that we wanted to do something. We had to wait for the book to get published and for us to get it at North Garland for her. All of her teachers are excited for her." 
 While usually, most authors prefer to have structure while writing, Cropp has different ideas. Typically, authors outline their work. They make concrete boxes for what should happen when to avoid surprises during the writing process. Cropp does not do this. She believes that freely writing without restrictions is better. 
"My writing process is just I write when I feel inspired," said Cropp. "Strangely enough, I don't outline. It feels like my character just has minds of their own, and I just write down what they do."
Cropp found inspiration from many media sources. Books, Television shows, movies and so much more. Some of her inspiration came from series like: Shadow and Bone, Percy Jackson, The Cruel Prince, Wings of Fire, and Seasons of the Storm. 
"I take a lot of inspiration from different mediums of entertainment, usually other books I read or my favorite shows/movies," said Cropp 
According to Zippia's research study, the average age to become an author is 41. Though because of advancements in technology, this may change. The percentage of authors who are still in K-12 is extremely small.
"[I] know a lot of people who write," said Reed. "But I don't know anyone who has taken the initiative to get this far." 
New trends are making publishing easier. Online publishing like Kindle Direct publishing from Amazon, Apple Book from Apple, Kobo and other online publishing firms. 
"There are a lot of resources," said Reed. "Books that you can buy that tell you how to publish, and courses you need to be writing a lot. Practice writing that's where it starts. You have to have an idea and develop it. All the stuff you learn in English class is going to help you a lot!"
Cropp has aspirations to become a full-time author, and her book signing event is just one step closer dream. 
"I don't really know what I'd say to my younger self," said Cropp.  "I don't think I'd want to spoil this for myself!"