Terrifically, Terrifying Experience
Dark Hour Haunted House Review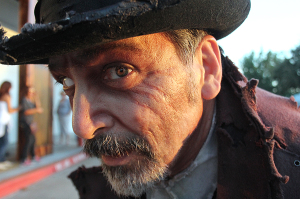 In anticipation of the upcoming Halloween season, Dark Hour Haunted House is opening its doors to thrill-seekers, courageous souls, and anyone else who thinks they are up for the scare. It is a terrifically terrifying experience, complete with a "witches and coven" back story and set-up. To set the scene and mood from the moment you get to the doors, you are greeted by the sassy witch of the month, an in-your-face ring master, and a gruesome pest-control personnel.
"We work really hard to provide an environment where you are submerged into the experience," marketing and promoting manager Amy Reed said. "We are like a live theatre."
Unlike most haunted houses, Dark Hour only hires trained and paid actors and actresses; offering a true theatrical experience to its audience. The characters get close enough to breathe down your neck and brush you with their hanging, blood-stained clothing, bringing a whole new perspective to the classic rule of "don't touch the actors or the props." Not to mention the intricate detail work and disorienting special effects, such as spinning tunnels, strobe light mirror mazes, and swirling green fog rooms that leave you agitated with your nerves unsettled.
They certainly exceeded my exceptions; the timing and placement are impeccable. Dark curtains and corners where lurking creatures are expected are left empty, allowing your imagination to wander over all the possibilities of where the creatures could be concealed instead. Then right when you believe you have it all figured out, something else s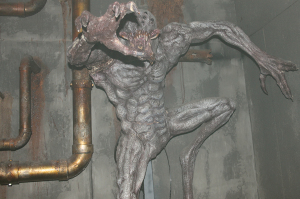 creams and stalks over to you from the most unexpected, yet obvious place.
"It's like riding a really good roller coaster," Reed said. "At first you're so full of anxiety and nerves that you just scream and you get so disoriented. But then as soon as you get off, what's the first thing you want to do? You want to ride it again!"
Dark Hour is a year-round haunted house, and their story line and set changes every month. No matter how often you come, you can never be sure of what to expect. Regular season shows are Friday and Saturday nights, Sept. 27 through Nov. 1 from 7 p.m. to midnight. Ticket prices start at $26, available in advance through the website, www.darkhourhauntedhouse.com , or at the box office located on-site at 701 Taylor Dr. Plano, TX 75074. Discounts may be found at local merchants or on the Dark Hour Facebook page. VIP packages are also available, including a Fast Pass Admission, a Dark Hour t-shirt, Dark Hour magnet, access to the VIP suite with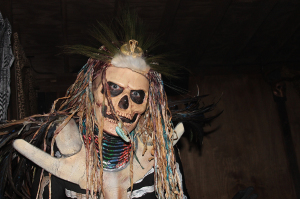 a refreshment table and a special screening of The Making of Dark Hour, and a second trip; all for $65 online and on-site.
Dark Hour Haunted House is located just east of highway 75 on Plano Parkway in Plano and free parking is provided. If you are looking for an exciting, thrill-filled evening, I recommend Dark Hour. So get together all of your closest friends, and prepare yourself for an experience you will not forget.
photos by Ariana Hadden