Defense Tackles Offensive Spotlight
In a league where offense and scoring points is slowly becoming the focus of a team, defense is proven to be just as important in a team's success.
Many believe that the most important position on a football field is the quarterback, but senior Eduardo Garcia, who played lineman on the varsity team, thinks that the middle linebacker is just as important.
"Your middle linebacker is the captain of your defense," Garcia said. "He gets you where you need to be, calls out the plays and has an impact on almost every play. He's just like the quarterback of the defense."
Of the 32 teams in the NFL in 2018, 22 had a linebacker lead them in tackles. The middle linebacker receives defensive play-calls through his helmet to get the defense set up the right way and, without a good one, a  team's success falls exponentially. In 2017, Cowboys' linebacker Sean Lee missed six games, and the Cowboys went 1-5 without him. In the six games that Lee missed, the Cowboys defense gave up 176 points, but in the 10 games he did play, they gave up 156 total points and were 8-2 with Lee on the field. These kinds of statistics are overlooked by many because it doesn't directly affect touchdowns or scoring points.
Offensive Coordinator Gary Porter thinks that defense has become underappreciated in today's NFL.
"Defense doesn't get enough credit," Porter said. "It's not valued as much as it should be. It's all about scoring points, and stopping an offense from doing that has become an afterthought."
There are many instances in the season when you need your offense to go down and score a touchdown to win the game, but the roles reverse whenever you need your defense to prevent a game-winning touchdown.
"It was fourth down with 23 seconds left in the fourth quarter, and Garland needed one yard to potentially win the game against us," Garcia said. "But we stopped them from getting that one yard and we were able to run the clock out and win."
Senior Peyton Farrington, who plays quarterback, thinks it would be better to have a good defense instead of a good offense.
"The point of the game is to finish with the most points on the board, and the less points your opponent finishes with means less points that you have to score," Farrington said. "Sure everyone loves touchdowns, and a 6-3 game would be boring, but the game is a lot easier when you don't need to constantly score four or five touchdowns every game."
 Legendary football coach and six-time national champion Bear Bryant once said, "Offense sells tickets, but defense wins championships," which proved to be true in 2013, when the Denver Broncos faced off against the Seattle Seahawks in Super Bowl 48.
The Broncos' season was much different than the Seahawks', soaring in many sports headlines for scoring the most points in NFL regular season history and having only the second quarterback ever to throw for 5,000 yards and 50 touchdowns in a season. The Seahawks played a much different style of football, relying heavily on their rushing game and the number one ranked defense in the NFL. This was the first time since 2003 that the top ranked offense faced off against the top ranked defense in the championship game, and the Broncos went into the game as favorites. Adam Teicher of ESPN also picked the Broncos to win, stating "Great offense beats great defense in modern NFL." That game showed a very different story and, on the very first snap of the game, Seattle's defense forced a safety on the Broncos' offense and they never seemed to recover. The best offense in the league found themselves down 22-0 at halftime, and before they knew it, they were down by 36 points before they were able to score. The game finished 43-8, and Seahawks defender Malcolm Smith won the "Super Bowl MVP" award, while Broncos quarterback and regular season MVP Peyton Manning finished with 280 yards and two interceptions.
Bear Bryant's quote was in full affect during that game, and Porter fully supports the message it's sending.
"Without a doubt, I believe defense wins championships," Porter said. "In fact, I have two rings to prove it."
About the Contributor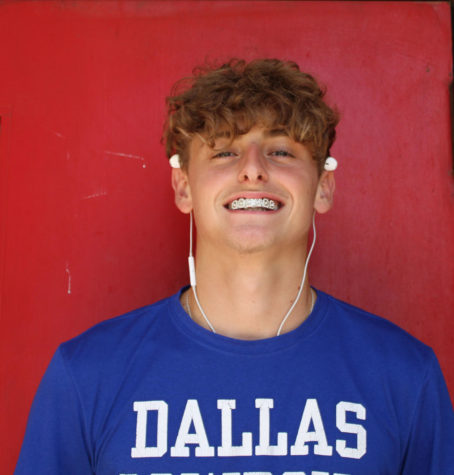 Michael Chambers, Sports Editor
Hey everyone, I'm Michael, a varsity football player and sports writer for North Garland's school newspaper, "Raider Echo." I am a die-hard Cowboys fan,...