Hollister Co. Recognizes English Teacher for Mental Health Advocacy
He sat there in his car, whispering a silent prayer in his head. "Lord just please give me some encouragement," he said. "I'm hungry to know that I'm not alone, that I'm doing something right. Just give me something." And with that, English teacher Matt Clarke walked into the school building, to face yet another day of virtual instruction. 
Just a day later he received a message from a student of his, senior Megan Le, telling him that he was selected, after being nominated by Le, as one out of four teachers in the country for an award hosted by Hollister Co. recognizing his dedication in prioritizing his students' mental health.
For Clarke, being selected for such a distinguished cause was an all-too-convenient answer of prayer, turning his attitude toward this year around. 
"It sucks it took this long to realize this," he said. "I mean God was working the whole time, I just wasn't paying attention." 
This was because just weeks ago Clarke felt he had reached his breaking point as the challenges in his personal life combined with the limitations on his passions in teaching were exacerbated by the past academic year of hybrid instruction. 
For Clarke, education lies on the foundation of relationships. Whether it be amongst students or between teachers and students, Clarke said severing opportunities for meaningful interactions places a struggle on whether or not you're making a difference and following your purpose.
"Many people try to be toxically positive about these things but you know what, sometimes it's gonna rain," he said. "And right now it feels like Noah's Ark." 
Despite personal doubts Clarke has on his performance as a teacher, his unrestrained, raw honesty about the bleak reality of the 2020-21 school year is what builds such strong bonds between him and his students, one of the  main reasons Le saw him as a perfect nominee for the award. 
Le, who has been a Hollister Brand Agent for six months was given the opportunity to work with the brand on events like World Teen Mental Wellness Day, a day founded to raise greater awareness of mental health issues among teens and provide education on how to break the stigmas surrounding mental health. 
"He is brutally honest with his students and he gives us the space to be brutally honest back," Le said. "He sets up this judge free atmosphere that allows students to confide in him naturally, with no shame or guilt about what they're saying."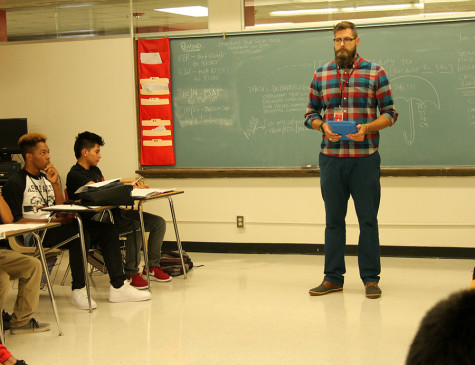 Hollister Co. approached Le and the other 40 brand agents to submit a school biography where they nominated a teacher who advocates for the mental wellbeing of their students. Writing honestly about how she felt, Le nominated Clarke. 
"Mental health is something that many teachers often overlook," Le said. "They forget that students are often struggling with personal issues that they hide and have no intention of revealing. Mr. Clarke has always been a teacher that made it very apparent that he would always be there for his students."
And with an email titled "Super Exciting News," Le shared that Clarke had been selected, along with three other teachers in the country by Hollister. A long winded process of tailoring agreements and privacy protection between the district and Hollister finally culminated into an event hosted on March 2, where Le sat on a panel with the hosts of podcast "Teenage Therapy" and popular social media influencer Jack Wright. 
"It was both nerve-racking and exciting at the same time," Le said. "I felt so honored to be able to be a part of such a big event that allowed me to have such real and honest conversations with influencers."
Becca Toser, a member of the Hollister Brand Team, worked closely to make the virtual event possible, after Hollister created "World Teen Mental Wellness Day" last year, becoming the first holiday to specifically highlight the importance of mental health support amongst teens. 
"Obviously, a lot happened in 2020 that made mental health more important than ever before," Toser said. "So this year, we wanted to create meaningful [virtual] experiences for teens and also provide resources to help normalize these types of conversations. This is how we came up with the idea to surprise students across the country with candid conversations, while also providing content on our website that's accessible to anyone and everyone."
Despite this becoming an annual event for March 2, Toser recognizes that the topic at hand isn't a one day thing, hoping to help the campaign expand. 
"Mental health & wellness are always on for teens," Toser said. "We also founded the Hollister Confidence Project, a year-round, worldwide initiative that supports individuals and nonprofits working to strengthen confidence & mental wellness in teens."
For Clarke, the event was never really about him to begin with. Teaching at a majority-minority school, he sees how students' cultures stigmatize talking about mental health. Many are taught not to reach out to someone outside the family about their problems, or to even be wary about the types of problems talked about within their family, Clarke said. 
That sort of seclusion is hard to break out of, making Clarke, someone who speaks openly about his personal experiences with seeking therapy and beginning antidepressant and anti-anxiety medication, a safe environment for students to not just reach out but to normalize such discussions. 
"Our mental health is one of [Clarke's]  biggest priorities and it shows in his classes when he talks to his students," Le said. "It's become such a habit that the students have started asking him how he is doing." 
Clarke often does mental wellness checks in his class, where beginning of class assignments task students with telling Clarke how they are doing. 
One day, after a rough week, Le responded with what was going on. Within a day Clarke messaged her privately to set up a google meet to talk it out. His patience and attentiveness with students makes it comfortable to be vulnerable with him, Le describes, noting times since her freshman year when she has reached out to him. 
Clarke's earnest attempts to tap into the lives of his students came from his own experiences as a student. 
Out of the approximately 200 teachers he had from Pre-K till he graduated college, Clarke notes that he can only think of two that were good. 
However, for him, it's not the one percent of teachers who were inspirational in his life that made him want to become a teacher, it was the 98 percent who never cared to listen. 
"I did it because those 198 had a direct opportunity to impact my life and did not," Clarke said. "I can't disrupt the system if I'm not in the system."
He took his frustrations with the faulty education system and harnessed them into a powerhouse of ambition, empowering him to become the teacher he longed to have. 
"The things that have brought me the most meaning are the things I struggled with the most," Clarke said. "I can appreciate the pain-I can appreciate the difficulty- because of the way it has shaped me and what it has taught me. I think we are so afraid of the pain that we ignore the lesson."
His time as a teacher reflects just that. 
"Mr. Clarke is very consistent with how he tries to connect with his students and his actions speak louder than his words," Le said. "He would rather sit in awkward silence in the class than skip over check-ins. He values how we're doing mentally and physically and understands that the only way we can succeed in his class is if we are doing okay."
After spending time in his class, both as a freshman and now as a senior, Le recognizes the personal approach Clarke takes to improve the class environment.  
"You can tell that he learns something new from his students every year," Le said. "He tailors the way he teaches to give us the best experience possible." 
Carrying his experiences as a student who was never listened to, Clarke looks to the future with hopes that education will revolutionize the way interactions with students happen. 
"We want to use children as the generation who will effect change but it's the one demographic we won't listen to," Clarke said. "If students are so important for the future then why are we not listening?