The Race Against Time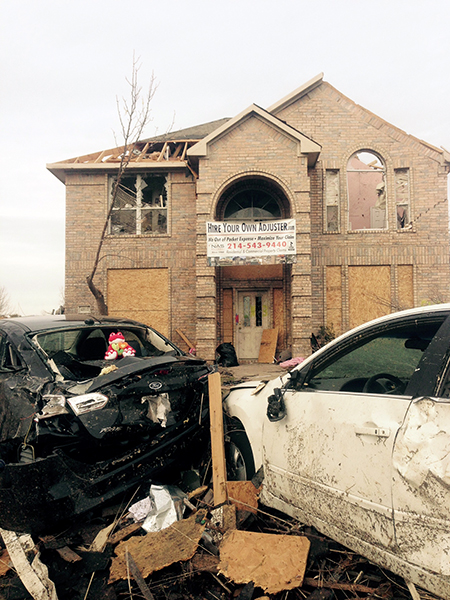 There are only a few minutes before a tornado hits a house in a once calm neighborhood. When sophomore Brian Nguyen and his brother's lives were on the line, Nguyen had to react fast before the tornado hit on December 26th, 2016. Fortunately, he found a safe place in the laundry room to hide for protection. His quick thinking paid off, and their lives were spared. His house wasn't completely destroyed, but it still had quite an impact on him.
"What I didn't know was if you're in a tornado or in the vicinity of one, it takes out the air pressure, so your ears pop," Nguyen said. "I had to think pretty fast, because there were only a couple of minutes before the tornado hit. I just grabbed my brother and took us to the laundry room. There are no windows there, and if something fell, the washing machines would block it. I was just focusing on what I was going to do, and what could I do, and what there was to do. Generally speaking, we got out fine. It was just me and my brother. I think [my parents] were at a friend's house."
Although there were no human lives lost, one of Nguyen's family pets did not survive.
"There were two pets outside," Nguyen said. "We couldn't get them inside in time, so one of them ended up dying. The other one is totally okay. The one thing I would say is unlucky is that my dog died. I had two dogs. One of them is a chihuahua, and the other is mixed. The chihuahua is dead."
Nguyen said the damage wasn't as serious as it could have been.
"In our neighborhood, there is a house that got completely torn down, and it's just rubble there now," Nguyen said. "So the only things damaged were our walls, ceilings and our backyard. We got out pretty lucky."
One thing Nguyen values is his piano. Due to the water damage from the rain after the tornado, his piano was ruined.
"The windows broke and some water leaked [into the house]. Glass shards got into my piano and water leaked in," Nguyen said. "We have to get my piano repaired. That's the only thing that got destroyed really."
Because of the damage done to his house, Nguyen and his family had to move out so it could be fixed. Finding new living arrangements was not a problem for the family thanks to other family members who were willing to take them in. He is also much closer to the school now.
"Now it's just a different living arrangement and [it's] in a different area," Nguyen said. "We're staying at my uncle's house, and we're just trying to get settled. The insurance is paying for our repairs so it should be done within two to three months so we can move back in. My mom drives me [to school]. Before it was like 20 minutes away from school, but now it's just three minutes. It's actually more convenient for me here."
Nguyen was impressed with the overwhelming amount of donations from the schools, volunteers and other clubs.
"I didn't think there were that many people who would donate," Nguyen said. "It just really surprised me."
Nguyen is thankful the damage was only to the property and not worse.
"A couple of stuff got destroyed in my house, but you can just pick it back up, repair it or replace it, so it's not too much trouble," Nguyen said. "You can't replace a life."