Student recieves recognition based on scores
Hang on for a minute...we're trying to find some more stories you might like.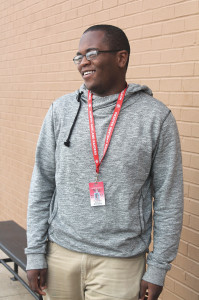 After taking the National Merit Scholarship Qualification Test, or the PSAT, during his junior year, senior Olatunde Badejo was named a National Achievement Scholarship Semifinalist. Out of 160,000 students, only about 1,600 are named Achievement Semifinalist. Juniors taking the test must first become a semifinalist to qualify to be a finalist. While taking the test, Badejo was not sure if he would qualify to become a semifinalist.
"I was really nervous about the test because I [felt], based on the practice test, that I was border line [on] whether or not I would qualify for the scholarship," Badejo said. "After the test, I knew I did well but I didn't know if I qualified or not."
While preparing for the PSAT, Badejo felt that the most challenging part was studying for the test.
"Other than the fact that you can get this National Merit Scholarship and [that] it's a practice for the SAT, there wasn't really any motivation to study for the PSAT," Badejo said. "My only motivation to study for the test was the fact that [I] could get this scholarship if I did well enough."
Though Badejo took the opportunity to take a PSAT prep class during the summer before his junior year and took a lot of practice tests on his own, he felt that they did not prepare him as well.
"The main thing I stressed was doing practice tests, because I feel that if you just do practice questions that will help you on individual questions." Badejo said. "It doesn't really prepare you for the stress of the test when you are in a timed situation."
To apply for the scholarship, Badejo had to check a box on the PSAT test saying that he wanted to be considered for the scholarship.
"It was about the beginning of September that they notified me [saying] that I was a semifinalist," Badejo said. "So I went on to their website and they gave me a login and a password that opened up the application [process] to becoming a finalist."
To become a finalist, Badejo had to turn in the online application before a deadline that included an essay, forms and something for the counselor to turn in.
"The scholarship you actually get from the National Achievement Scholarship Cooperation is $2,500 for everyone, but depending on the college you go to, the college could add additional scholarships for National Achievement semifinalist and finalists at that college," Badejo said. "I went after the scholarship because college is expensive and [all you need to do for this] scholarship is study for this test."
Back when Badejo was a freshman, his sister was a National Achievement Finalist. At the time he had not thought much of his future, but as the moment of the test was coming, Badejo already had a target to reach.
"There was a little bit of pressure knowing that she did it, and it's sort of expected from my parents that if she could do it then I should be able to do it," Badejo said. "But it was mostly motivation [because] I've seen where she's gone after getting the scholarship, so that is somewhere that I would like to be."
If Badejo had not received this scholarship, he said that he would have not lost anything.
"If I didn't qualify for the scholarship, then I would have been disappointed, but I [would have known that] I tried my best on the test." Badejo said.
Badejo is proud of his accomplishment and says that it is the highlight of his high school career.
"It will open a lot more doors," Badejo said. "It will improve my chance of getting into a lot of [better] places [than if] I wasn't a semi-finalist for the scholarship."