Dia de los Muertos
On Nov 1, 2021, the city hosted a Dia de los Muertos event in Downtown Garland.  It's commonly thought to be another version of Halloween, but the meaning is much more complex. Dia de los Muertos is a day where families come together to remember and honor their loved ones that have passed on. To celebrate, a handful of GISD groups attended and performed including SGHS world dance, ILTexas Choir and Guitarist, Los matachines, and GISD Mariachi.
The first half of the event was the performance of Golden Meadows, SGHS World Dance Company, ILTexas choir and guitarist, ILTexas World Dance Company, and NGHS World Dance Company. All groups performed a piece of folklorico excluding the choir and guitarist group.
The majority of the folklorico dancers did a Jalisco style folklorico, while the ILTexas World Dance Company did a Veracruz style. South Garland and ILTexas had a second performance, which presented a dance that was a mix of cumbia and huapango, dances commonly used in Mexico and Latino culture. The performers wore a plaid shirt, jeans, and boots. The ILTexas choir and guitarist group did some solos and then an instrumental with everybody playing. 
"I thought they did a really good job organizing the programs and how they had a variety of ages and styles of performing," Ms. Portillo, the JV drill team sponsor, said.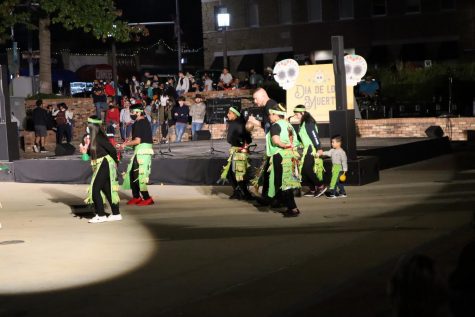 For the second half of the event,  Los Matachines and The GISD Mariachi performed. The Matachines were a group of elementary students dancing "The Matachin".
The Matachin is a traditional and religious dance which first emerged in Spain in the early 17th century. There was a drummer on the sidelines who played the beat of the song as the students danced with their green nagüillas, skirts made of two flaps with reed cane strung with jingle bells that function as noisemakers during the dance. Later the GISD group, Mariachi Estrellas, took the stage. They played songs such as "Amor Eterno", "La Reina es el Rey", and "Hermoso Cariño". Colbe Maxwell, Regina Majia, Elena Molina, Alejandro Munoz, and Isabel Benitez all sang one song, but Alejandro sang two . The audience was encouraged to sing along and they didn't hold back.
"We were all nervous, but the crowd was supportive and was hyping us up so it wasn't as bad as we thought" sophomore Elena Molina, Mariachi Estrellas member, said. "Even before we got on stage, [while] we were waiting for the other group to finish, people were telling us that we were going to do great."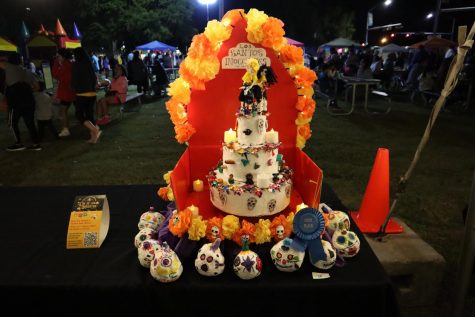 To conclude the evening, the organizers  announced the Altar winners and a free showing the movie "Coco" at the Granville Arts Center.