Korea's next big thing
Sophomore rapper advances through audition rounds of major South Korean company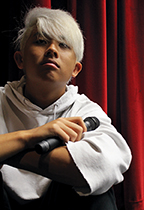 Amy Pham, Co-Editor-In-Chief
May 13, 2016
His stormy, white hair blended into the color of the sky as he flew for 14 straight hours across the ocean. Once he landed, he was on a race against time. He wasn't a star yet, but that's all he wanted to be.
In December, sophomore Thang Tran, who is half Korean and half Vietnamese, sent an online audition as a rapper to SM Entertainment, a major South Korean company. After about two weeks, the company gave him two free plane tickets and invited him to a live audition in Seoul for the weekend of Feb. 27. Tran's family purchased two additional tickets, so that both parents, along with his sister, could accompany him.  
"Basically, I just sent them a picture [of myself] and a voice recording of what I could do," Tran said. "If I'm going to do something, I might as well go all the way. I wanna hit it off big."
Once he arrived at the designated building for his audition, he had to separate from his parents at the reception desk. From there on, auditionees were brought into an auditorium where they were given a presentation on the popular bands from the company, such as Super Junior, Girls' Generation, EXO and SHINee.
"After that, they gave us a little tag number, and we'd go into the next room," Tran said. "There were tons and tons of people, not even all Asians; some of them were black, white, Hispanic, all that."
Groups of six to seven auditionees were called to audition in a separate, smaller room. Individual names were called to step forward in front of a camera, with three judges behind the camera.
"It was an interesting experience," Tran said. "[The judges] just scribbled down a bunch of stuff while we auditioned. There was no music in the background, so it was all a cappella."
Tran arrived at the audition building at around 10 a.m. and finished the process at about 5 p.m. Shortly after, he had to head to the airport to board directly on his flight back to the U.S. for school on Monday. Eventually, he was emailed a notice that he had advanced to the third and final round of auditions. If he successfully completes his rounds, he will have a place as a trainee under the company, or a potential entertainer who spends years practicing singing, dancing, rapping or acting with teachers and other trainees. Trainees are then selected to debut.
"If I make it, [then it's] six years of hell, I heard," Tran said. "But it's something I really want to do, and I don't think I'll regret this."
Sixteen auditionees advanced to the final round. They were split into eight teams, with two people per team. Each team had the task of creating an original song and sending it digitally to the company. Tran worked with someone from Canada to create his track, using Skype to communicate. He sent his track about two weeks ago and plans on performing it for SM Entertainment on May 24.
"I already sent my track, but we still have to audition with our track," Tran said. "They don't know if we autotuned ourselves or something."
Tran does not know when he will get results. In addition, he is also not sure how many people get accepted from this round and said they could all be eliminated if the company sees fit. If Tran does get accepted as a trainee, he would have to move to Korea.
"They have teachers specialized for [American students], but right afterwards, you have to go back to the company and start training every day," Tran said. "I guess you go to sleep around 1 or 2: a.m., but you'd probably want to stay up later to practice. I know it's hard, it seems really rough, and I'm not even sure if I can juggle it, but I want to at least give it a chance. There's no guarantee. If I'm going to become a trainee, and I don't work my butt off, I could get cut at any time."
Tran would also have to leave his family in the U.S. and adapt to a different culture in South Korea.
"I'm going to be on my own too, for like six years," Tran said. "It makes me a little sad, but I'd still do it. I'm not gonna lie, I feel like I've lived a life really spoiled by my parents and everything, but like I said, this is my dream and if I have to work – blood, sweat, tears and everything – I will, because I want it. Who doesn't want to just stand on stage?"
Tran cited artist G Dragon as being his inspiration, for being the "Lady Gaga of Korea" and writing his own music, as opposed to relying on a company to create songs to perform.
"It's not just G Dragon," Tran said. "[It] was also people who wanted to be big things but said, 'Aw man, it's so unrealistic. I'm never gonna be that.' Me, I wanted to be an icon to people. I wanted to show people that if you work for your dreams, it will count. It will happen. It will come true."
Tran has been playing piano since he was 3 years old. He said it took him three months to write his first song, called "Regrets." In addition, Tran said he writes songs by fiddling around on the piano and making tunes with a rhythm.
"Relationship problems, that's one thing to write about," Tran said. "Then you just pour out. But it has to be honest feelings. To me, as a rapper, you have to write about yourself. Don't rap about other people, because if you're going to write about a life that you don't live, that's kinda wrong. It's fake; it's not you."
Excluding SM Entertainment, Tran also auditioned for YG, JYP, Starship, Cube, LOEN and Woolim Entertainment. However, some of these companies disqualified Tran's audition after learning that he had already auditioned for SM Entertainment. Tran has not attempted to become known in the U.S. due to his differing taste in music and the lack of famous Asian rappers in the U.S.
"Basically any [Korean companies] you can find, I'm pretty sure I auditioned for them [online]," Tran said. "If I make it, then I make it. If I fail, then I try again."
Tran said he will resort to being a music teacher if he does not make it as a K-pop rapper. Three years ago, he began teaching students piano. He currently has 12 students throughout the week, with each lesson lasting 45 minutes and costing $20.
"I feel like music is where I'm going to go in life," Tran said. "In school, even now, I'm just sitting behind a desk writing. It makes my head hurt. I get so bored, I can't do that. I just wanna do what I like."
Tran said he wants to find his own sound and become known to people in the U.S. through his rapping as well, similar to Psy's viral hit, "Gangnam Style."
"Something else I'm looking forward to is probably just how it'd feel," Tran said. "Your first debut stage, right on there, everybody looking at you. You and your band members just hitting it out; it'd be pretty cool."