Remembering Kobe Bryant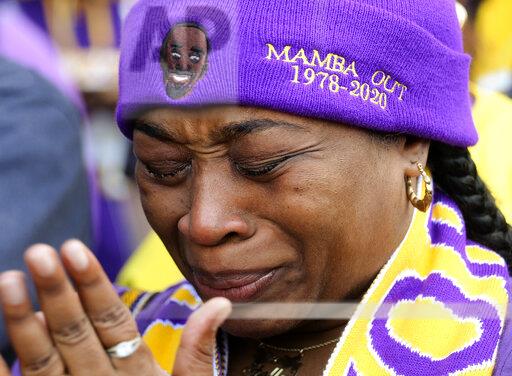 On January 26, 2020, nine people, including former NBA star Kobe Bryant, died in a fatal helicopter crash in Calabasas, California enroute to a youth basketball game.
Bryant had profound success in the NBA, being picked for the All-NBA team 15 times. He was an 18-time All-Star and was selected for the All-Defensive team 12 times. His undying dedication to the game helped him win five NBA championships and a Most Valuable Player Award in 2008. He won his first three titles from the years 2000-2002 to "3-peat" with teammate Shaquille O'Neal before going on to win his other two in back-to-back years in 2009-2010. Bryant's consistent success over a span of two decades pushed him into superstar status not only in the NBA, but amongst some of the greatest to ever play. But as many historic accomplishments he had on the court, it was his impact off the court that may have reached more than just athletes. 
Senior Ezekiel Yosia said that Kobe Bryant was a key influence in him pushing to work on his own game.
"Nobody worked harder than Kobe, and he wanted you to know that," Yosia said. "He preached about his work ethic and how it helped him get to where he was. That showed me that if I wanted to be there too, it's possible, so I started playing more and more basketball every day."
In 2008, Bryant participated in the Summer Olympics as a member of the United States basketball team. Former Miami Heat players Chris Bosh and Dwayne Wade told Michael Wallace of ESPN a story of their training camp in Vegas:
"We're in Las Vegas  and we all come down for team breakfast at the start of the whole training camp, and Kobe comes in with ice on his knees and with his trainers and stuff, he's got sweat drenched through his workout gear, and I'm like 'It's 8 o'clock in the morning, where is he coming from?"
Wade added: "Everybody had just woke up, yawning, and he's already three hours and a full workout into his day."
Bryant's favorite player growing up was none other than Michael Jordan, who he idolized and modeled his game after. When Bryant reached the league in 1996, he wasn't star struck or taken aback by being around his childhood idol. Instead, he went after him, asked questions and wanted him and everyone else to know the name Kobe Bryant.
Bryant said in an interview with Kevin Ding of BleacherReport in 2014:"It was great for      me. I was looking forward to that moment, him being at the pinnacle of who I was looking forward to playing the most, I'm not scared of anybody, It's more curiosity and such a respect that I want to learn. I'm not afraid to admit what I don't know, so I'll ask questions and try and learn as much as I can."
In December of 1997, when Bryant was 19 years old, his team faced off against Jordan and the Chicago Bulls. Although his team may have lost, Bryant did his part tallying 33 points, a new career-high at the time. He welcomed the challenge of playing his hero, even nailing one of Jordan's own signature fade-away shots on Jordan himself. Bryant told reporters at the game, "Whenever I have the chance to guard Michael Jordan, I want to guard him. I want him. The ultimate challenge." Max Kellerman of ESPN once said on First Take, "In the 90s, everybody wanted to be 'Like Mike', but nobody dared to try like Kobe."
Bryant was known for his legendary work ethic and it influenced many others, such as junior varsity basketball player Mary Saldana, to be the best on the court.
"My dream is to be the captain of the varsity team. Even though I may not be the tallest or fastest, Kobe showed me that if you are determined for something and give your all to go get it, then it definitely can be achieved," Maldana said. "If I put more work in off the court than anyone else, then there's no question I can become one of the best for our school."
After he retired, Bryant began to explore many different options for life after basketball. He became a New York Times best-selling author, an Academy Award Winner for his short film and the CEO of  content creation company Granity Studios. Bryant often spoke about wanting to inspire people in trying to be great at whatever they do.
"That's just who he was as a person," Yosia said. "The way he went about his business, wanting to be the best, putting in more work when nobody was looking. Kobe's legacy will be carried through the Mamba Mentality he created for others."