From a Teen to a King: Part One
Hang on for a minute...we're trying to find some more stories you might like.
Sixteen years ago, a young man from Akron, Ohio arrived at Madison Square Garden for the NBA draft.
Eighteen year old LeBron James was the world's highest ranked high school basketball player, accumulating three division titles and was voted "Ohio Mr. Basketball." He was named to USA Today's All-USA First Team for three consecutive years. James was also the first ever high school underclassmen to be featured on the cover of Sports Illustrated magazine.  
On April 25, 2003, James declared for the NBA draft, deciding to skip college basketball.
James was selected first overall by the Cleveland Cavaliers, fulfilling his lifelong dream of playing for his hometown team. In his rookie season, he appeared in 79 games, while averaging 21 points, six rebounds, and five assists per game, and he brought home the NBA "Rookie Of The Year" award. During the 2004-05 season, LeBron showed rapid improvement, bringing up his point total to 27, while averaging seven rebounds and seven assists. James was named to his first NBA All-Star game leading the Eastern Conference to a win. On March 20, 2005, he scored 56 points against the Toronto Raptors, breaking the franchise record for the most points in a game by a Cavalier. He surpassed previous record holder Walt Wesley by six points. James was named to the All-NBA First Team and brought Cleveland their first winning season since 1998.
In 2008-09, after the acquisition of All-Star guard Mo Williams, James led the Cavaliers to a league best 66 wins, the most single-season wins in Cavalier history. James won his first "Most Valuable Player" award that year while finishing second in the "Defensive Player Of The Year" award race. John Hollinger of ESPN later said, "He's having what is arguably the greatest individual season in history, and it's time we gave him due for it." The Cavaliers swept both the Hawks and Pistons in the first two rounds of the playoffs to secure a spot in the Eastern Conference Finals against the Orlando Magic. James lost Game 1 in a 49 point effort but hit a game winner in the next one to tie the series up at one a piece. The Cavs would go on to lose the series 4-2, but James finished the series averaging 39 points, eight rebounds and eight assists.
In the following season, the Cavaliers suffered many injuries, forcing LeBron into the point guard position, but they didn't lose a step. They once again finished with the most wins in the league. With James being the primary ball handler, his usage rating and statistical production went up to averages of 30 points, seven rebounds and nine assists. He won his second MVP in two years, becoming just the fourth player in NBA history to do so. In the second round of the playoffs, they faced off the eventual champion Celtics. James faced a lot of criticism from media after a horrendous Game 5 where he shot 20 percent from the floor on 14 shots, and even left the court to a concert of boos from his home crowd. They were officially eliminated from the playoffs after a Game 6 loss in which he put up 27 points, 19 rebounds and 10 assists. As James left the court, he removed his Cavs jersey and many wondered if that would be the last time that he wore it.

About the Writer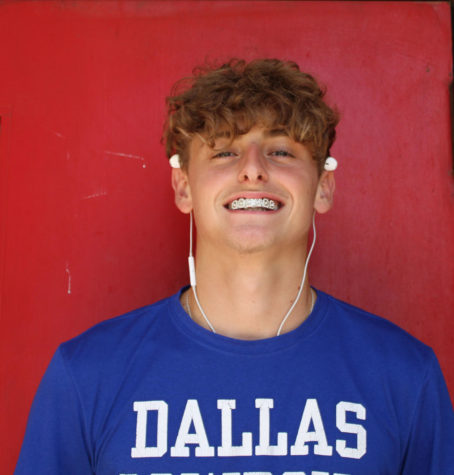 Michael Chambers, Sports Editor
Hey everyone, I'm Michael, a varsity football player and sports writer for North Garland's school newspaper, "Raider Echo." I am a die-hard Cowboys fan,...