Hispanic Heritage Celebration Takes Place in Cafeteria
On October 12, there was Hispanic music playing in the cafeteria. Throughout the day, people could see others dressed up in traditional Hispanic clothing.
"It's Hispanic Heritage [Month]. [We are] celebrating the 24 countries that speak Spanish. No one is representing Hispanics, so this is a way to represent in a cool way," sophomore Marilyn Jimenez said.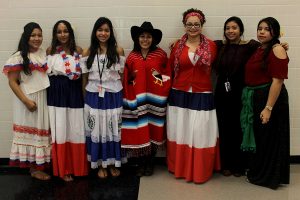 The original idea was brought up by the AP Spanish teacher Erika Ortega, and her class. They had to do research and then wanted to celebrate.
"I have been wanting to do something that represents the Spanish heritage," Ortega said. "But not one country, because every single Hispanic student is not from Mexico or Guatemala. Then I have quite a few students from all over Latin America. And today we officially celebrate heritage day, because it doesn't represent one country, but Spanish heritage as a whole."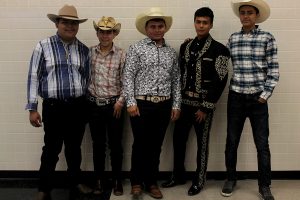 The celebration represented not only Mexican Hispanics but all cultures who have Spanish roots.
"[Ortega] told us to dress up as a Hispanic culture," sophomore Michael Gomez said. "We decided what type of culture."