Competition of Compositions; Orchestra assignment challenges students to create, arrange songs
Orchestra teacher Adrianna Garza assigned her orchestra students to compose and arrange songs which will last about three or four minutes. According to Garza, this project requires students to think about rhythm, melody and harmony as a whole; it makes students think about music differently, not just their own part but how everything comes together. When the compositions are finalized, a single song will be chosen to be performed at the spring concert on May 14.
"The other part of it that's more for the students is that they get to express themselves the way they want to, make music that they want to make," Garza said.
Garza says that she began assigning this project during her first year of teaching when her middle school students began working on writing rhythms. Garza has been teaching orchestra at North for two years, but has been teaching orchestra for four years.
"It was middle school, so they didn't actually have to write it out, but they worked on their rhythms as a group and then they just started composing things on their own," Garza said. "I decided to make it a small contest that they would play before the concert started, but really, it was just a way to buy time before I could come up with some music for them to play."
Garza says she chose the project groups based on the balance of pitches and the instrumentation of one low and two higher-pitched instruments.
"I just group as best I can to keep a high voice, a middle voice and a low voice, but preferably it would be two violins, a viola, and then cello or bass," Garza said. "The biggest complication, I think, when working in groups, is people having different ideas, the way they want the project to go and then people just not being ready to, not fully being able to understand writing, composing and seeing it in a different way."
Students have to come up with a theme for the first part of the project. After choosing their theme, they have to write a melody and create eight measures for the whole orchestra to play. Afterwards, the students work on making a harmony.
"I keep them on the melody for a long time so that it gets stuck in their head," Garza said. "It's actually starting from the middle and working their way out, but that way they can start from the main idea."
Junior Tien Huynh says that the project has helped her learn a lot about music theory and about different possibilities in the direction of the song.
"I think that doing a composition is good because I want to major in music, so that is something that kind of opens me up to the business," Huynh said.
Junior Rekita Williams says that she likes how the students are able to do arrangements this year, instead of composing an original song.
"It's just a little tough though, sometimes," Williams said.
Sophomore Sabrina Nguyen says that she doesn't like it, but since the project grade will also function as a final exam grade, she prefers doing the project instead of a written test.
Garza said that she thinks a lot of people were skeptical about the project. Last year, she says they didn't like that they had to do a lot of written work, and some people refused to do the project.
"I just knew it was gonna be a really big struggle last year," Garza said. "But this year, it looks like everybody actually has pretty much been able to fulfill the first two steps of the project, which are the hardest steps of them all. I think actually this year, it's gonna be really interesting and more challenging to decide whose piece gets performed at our concert, so I'm kinda excited, actually."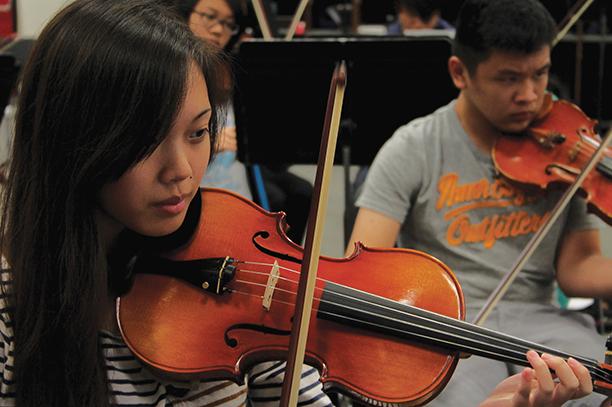 Left: Sophomore Sabrina Nguyen and junior Benny Wu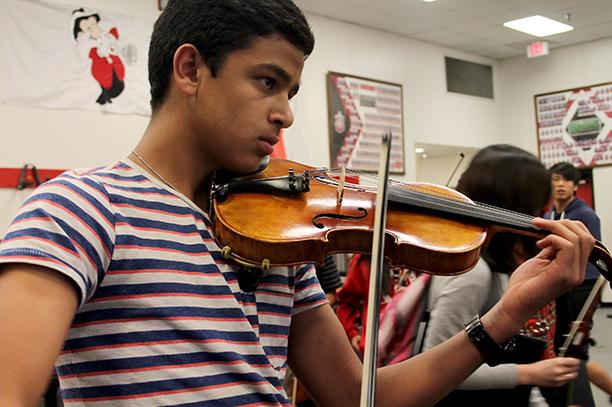 Below: Junior Conner Azeez
Bottom: Freshman Sophia Tran