Mariachi Estrellas
Students may be unaware that North Garland has a Mariachi group. They're called Mariachi Estrellas and are directed by Rebecca De Luna, the assistant orchestra director at Jackson Technology Center. It was introduced to North Garland High School to provide music for the community and as an opportunity for students to learn music of the Hispanic culture. 
"I joined because I was drawn to the very optimistic and welcoming energy our upperclassmen gave," sophomore Elena Molina, Mariachi Estrellas member, said "The upperclassmen also [taught us] in a very kind and patient way."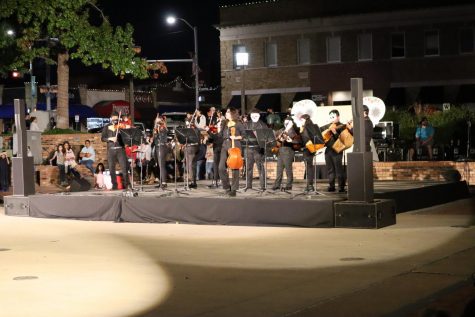 They perform at community events in the DFW area, mainly in Garland. One of their recent performances was at the Dia De Los Muertos event on Nov. 1  in Downtown Garland. They played songs such as "Los Laureles," "No Volveré," and "Hermoso Cariño." The crowd was responsive and participated in the performance. They were singing along and gave a round of applause at the end of each song. Also they have a performance coming up soon. 
"The progress for our next performance is going well! We have a lot of work to do especially in the vocal and Armonía (guitar) section. But especially with our new players we have come a long way!" senior Colby Maxwell, Mariachi Estrellas member, said, "But we're working on perfecting our technique and our set list to be able to perform our best!"
Their next performance will be at a Christmas event on December 2. The event is called "A Garland Christmas at Firewheel" which will be held at the Firewheel Town Center from 5:30-8:30 pm. 
"I am excited for the students to perform here as we have always done this at the Garland Square,"Rebecca, the Mariachi director, said "This new venue will be exciting for us to perform at."