BETA Club Talent Show Returns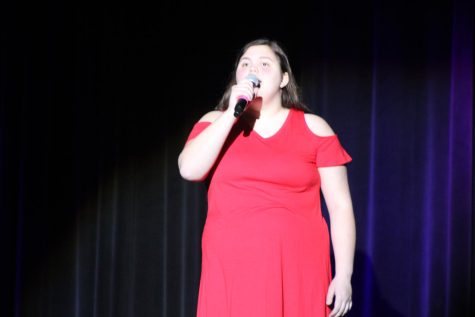 Every year, the North Garland BETA Club has held a talent show to showcase some of the amazing things North Garland students have to offer. This year the show consisted of eight acts, from pianists and singers to poetry and dance groups.
The BETA club put a lot of effort and energy into making the talent show a magical experience, especially since the 2021 talent show didn't occur due to the pandemic. Senior Liberty Cowan was selected to perform and the talent show where she sang "Fight for me" from Heathers the Musical. 
"I wanted to display my talent to the school since the show had been canceled the year prior," Cowan said. "I selected my song for the show at the last minute. I wanted a song that showcased my range and control at the same time."
The talent show was a selective process and there were auditions held to determine who all would be showcased on Jan. 28th.
"The audition process was rather simple but still jarring," Cowan said. "I was nervous, but the judges were supportive and kind."
One of the people selected by the BETA club to perform was triple-threat freshman Melissa Pham. She performed in a dance act called 4567, a K-pop mash-up number, along with singing and playing the piano to the song "Almost is Never Enough." 
"I wanted to experience the thrill of being on stage and I wanted to try to get over my stage fright," Pham said. "I got nervous abt the audition, afterward I started crying because I had messed up but I'm glad everything worked out in the end. 
The K-pop act 4567 that Pham was a part of also included junior Yi-Chen Hsieh, an exchange student from Taiwan. This was a new American experience that has made her year here that much more memorable. 
"We chose songs we all wanted and were comfortable doing. We picked different songs we liked and mashed them together and used dances from YouTube," Hsieh said. "My favorite part was the performance itself and our team spirit." 
After all of the acts had been performed, the audience had the opportunity to vote for their favorite act using a QR code that was in their program. The winner of the talent show was Liberty Cowan, her singing abilities truly blew the audience away.
"Winning was something I was NOT expecting. I didn't even know they were taking votes until the show started," Cowan said. "To know that I was seen and appreciated by so many people meant the world to me."