Lack of Spirit Group Causes Uproar
The lack of Raider Rowdies this school year has sparked some controversy among the students. Despite this, most do not know what truly happened to the organization, other than history teacher Ryan Victor no longer being the sponsor.
"Simply the biggest reason [to no longer do it] was [my wife and I] were having our second kid," Victor said. "With the baby being born it was best if I stayed home."
Victor let the Rowdies know his decision early on during the 2015 football season. He formally resigned after the last pep rally in February.
"[The Rowdies and I] all felt there were other teachers who would be good for it," Victor said.
The only returning Rowdy would have been senior Alyssa Cazares. Once Victor resigned, she asked science teacher Jared Monroe to be their sponsor.
"So I volunteered to do Rowdies," Monroe said. "In the past, teachers just had to volunteer. If there was anyone wanting it, we were told okay. I kind of misunderstood a communication thinking that I had been given the okay to do it."
In April, Assistant Principal Natasha Shaw asked Monroe to wait until teachers were formally asked to apply as sponsors. An email was sent out in May. At this point, Monroe decided he no longer wanted to be the sponsor.
"I didn't feel I was going to be the best fit for it at that point anymore," Monroe said.
Since then, there have been three other emails sent to the staff requesting a sponsor, most recently on September 27.
"The profession of teaching is extremely time consuming," Shaw said. "Teachers have to prepare lessons, grade papers, contact parents, meet weekly to review data, attend professional development/training, complete duty, conduct tutorials (sometimes long hours after school during the week and on some Saturdays) and still fit in time for their families and other outside activities that they may be a part of.  A few teachers responded that they would like to help but had very busy schedules, which is understandable considering the time commitment for any extracurricular team/organization."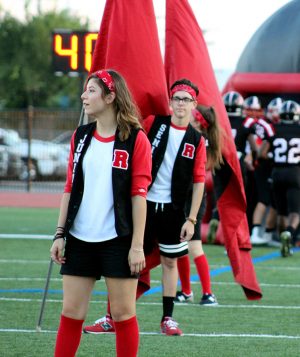 While many students blame the administration for 'killing their spirit,' Shaw argues she knows the importance of spirit groups and is hopeful a sponsor will be found before next school year to unite the school's pride.
"The entire administration team acknowledges their vital role," Shaw said. "As a former high school cheerleader and dancer, college cheerleader and dancer, and having been a sponsor of both an award-winning drill team and step team, I am personally fully aware of the necessary role that spirit teams play in supporting the school, increasing morale of the students and staff, and providing entertainment for the crowds."
Because of their disappointment with the lack of Rowdies this year, a group of seniors started a written and online petition a week before the first pep rally and hung signs near the HST hallway.
"I have incredible love for the Rowdies," Victor said. "I think [they are] a very valuable part of this school and to have other kids recognize that value and agree with that value is awesome. I support any responsible student movement to make it happen."