AVID acceptance letters decorate the halls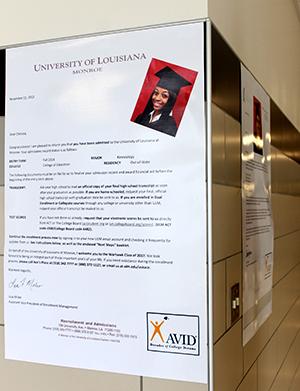 The familiar faces of seniors decorate the walls of the school. Their acceptance letters from colleges throughout the country are currently hanging in all the hallways. These blown-up letters have a student's picture on it, along with the actual letter telling them that they've been accepted to the college.
"We get to make copies of [them] and put [them] on the wall to showcase what [students] have done and celebrate the fact that they not only are about to finish high school, but are going to be moving on to post-secondary education," teacher Asha Phillips said.
Since AVID is a college-readiness program, it is sponsoring the acceptance letters, but this process is open to every senior in school who has been accepted to college. This tradition began last year, but this year, students' pictures have been added to letters. Seniors can bring their letters into the library, where a librarian will take them to the print shop to enlarge and laminate.
"We want everyone in the school to know that going to college is not just a dream, it's a reality, and they can accomplish it if they do what they're supposed to do," AVID teacher Margie Perez Garcia said.
On Signing Day, May 19, students were able to tell each other where they planned to go to college.
"They got a cool T-shirt that says,'North Garland Raiders College Accepted,"' Phillips said. "Things like that [help] celebrate the fact that it's a huge deal that they've gotten into college and that's where they're going to be headed in August."