AVID National Demonstration Title Renewed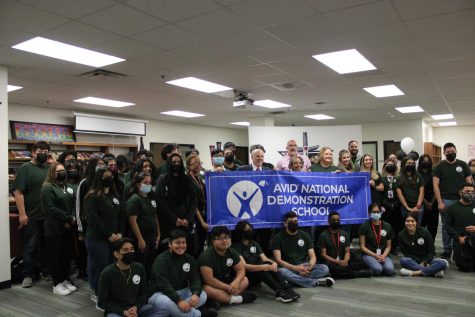 AVID students rushed into the library to celebrate the renewal of the AVID National Demonstration title. With cake and drinks, students gathered around to watch some of their accomplishments from the year to achieve the renewed title. 
North was first recognized in 2015 as a National Demonstration School after an exemplary display of AVID techniques. Only two percent of AVID high schools earn this title and North is the only school in the Garland Independent School District (GISD) that is recognized. AVID has greatly impacted some of the students to help them reach their dreams with the help of their teachers, like AVID 4 and Early College Algebra Teacher, Anne Rojas. 
"I saw that AVID showed kids that didn't realize they have college potential, show them that they do and helped guide them and that's what we are trying to do as educators," Rojas said. "We are trying to not just make sure they learn this or the task – we are trying to open paths for them."
AVID creates a safe space for students to express themselves and grow to their fullest, it teaches skills that can be utilized heading into college. Current clinical psychology major and North Garland alumni Jose Salinas wouldn't change his AVID experience if he could redo high school. 
"AVID was like a second home, that second foundation to my life," Salinas said. "I feel like because of AVID I was able to push through even when I seemed hopeless. It's like for AVID things always seemed hopeful. One piece of wisdom that was thrown over me that I really appreciated was that the only limits are the ones we put on ourselves."
This is a big accomplishment for North Garland and GISD as a whole, as this sets North apart from the majority of schools in the country. Superintendent Dr. Ricardo Lopez along with members of the board of trustees came to celebrate this achievement.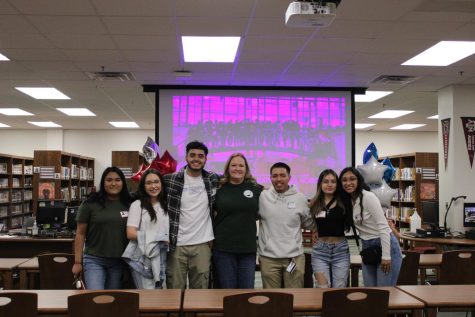 "I walked into GISD and they were giving the whole demonstration process for the second time and it was a real proud moment because it is such a high honor to get this type of prestige and you have the performance to back it up," Lopez said. "We chose that this is a good marriage here in North Garland and it's really helping students reach their full academic potential."
The students in the program choose it because they know that in the long run, it will be beneficial to them. With more scholarship opportunities, better comprehension of different skills, and lasting friendships – the AVID program is like no other. 
"I've been pushing my siblings and cousins to join AVID because it's a group coming together and groups have more power than individually," Salinas said. "You get that foundation, you get that support you need you might not be receiving at home or at school, AVID is there for you. I met some long-term friends in sophomore year and we still talk way out through college." 
Becoming an AVID National Demonstration School is a long process that requires the help of the staff and students to make it possible. From advisory lessons to making informational videos, every bit helped contribute to getting the title renewed and every bit of effort is worth it to help students succeed. 
"The benefit of when AVID is done correctly like here at North Garland is that students are getting an experience on how to work. Sometimes people expect kids to know how to take notes, how to write, how to break down information, and how to work collaboratively, all of that is a learned process," Lopez said. "Either somebody modeled it for you, somebody taught you or you went and looked at what the best way to do this is. And what AVID does is it really gives you guys the right way to learn so you can take it to college and be successful."