Fashion Changes In 2010s Decade
As a decade arrives, it's hard to not think back about how much has changed. From hairstyle and clothes, it's safe to say that the world and its people have all grown. Looking back, a huge variety of fashion trends have popped up throughout the years.
Trends have the tendency to recycle themselves. The popular style of looser clothing, neon colors and denim dates back to the 90s. More recently, mom jeans and overall baggy clothing, which was popular in the 1980s, have made a big comeback in 2019.
"Fashion comes back," geometry teacher Esmeralda Gomez-Sheran said. "My mom will tell me, 'oh, that's the type of dresses that we used to have.'"
However, clothing also seems to have a tighter fit. This trend can be seen in skinny jeans, bodycon dresses and pencil skirts. HubPage, an online user generated content website, writes that many girls choose to wear tight clothing, particularly skinny jeans, to keep up with the latest trends. Famous celebrities, like the Kardashian sisters, are known for their form-fitting, coke bottle shape and choosing clothing that accentuates it.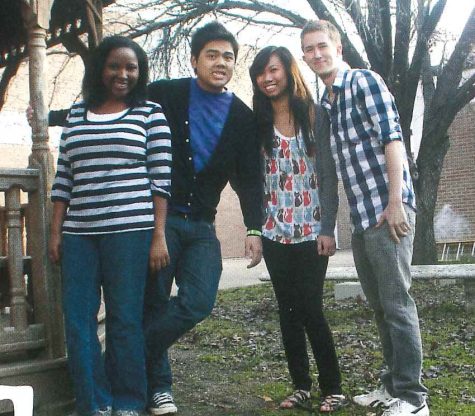 "Everything is much more form-fitting than what it used to be from when I was in school," said math teacher Zach Hernandez, who graduated in 2012.Clothing style for teens in the late 2010s consisted of higher rise jeans and shorts, leggings, crop tops, stripes, ripped jeans and biker shorts. Fashion today mainly revolves around more revealing clothing and athletic wear or athleisure. Celebrities such as Kendall Jenner and Gigi Hadid are typically spotted wearing Lululemon, Yeezy and Nike.
"Crop tops or showing off midriffs is another deal," Hernandez said. "Everything seems to be more revealing. Females show a little bit more skin than I'm used to."
Going back to early 2010s, flannel, leather and jean jackets, scarves, graphic shirts, cardigans, and beanies were some popular trends for guys. Make artist groups, such as the Jonas Brothers, generally wore button-up shirts layered with vests, fedora hats and glasses. For guys, shorts and loose jeans replaced the decades late trendy skinny jeans.
"Plaid shorts were a thing, and I fell prey to that trend. Cargo shorts were a big deal," Hernandez said. "I don't think jeans were as tight as they are now. I think they were much more loose fitting."
Some famous trends in the early 2010s for girls included miniskirts, vibrant colors, cargo pants, Uggs boots, mixed prints, skinny jeans, high-waisted shorts as well as feathers in hair and clothes. Brands like Forever 21 and Hollister were known for their selections of accessories like chokers and flower crowns, worn by celebs like Vanessa Hudgens, Victoria Justice and Taylor Swift."Colored pants. Everyone was wearing pink, yellow and light blue colored jeans," Sheran said.
"Everyone was wearing Toms and Vans. I mean Vans kinda came back again, but I remember in middle school you had to have Vans."
Although, fashion trends have been known to come back, it's not hard to notice the massive changes in what people wear over the decade. With these occurring changes, has fashion become better or worse? With social media and the internet at our hands, online shopping has become easier and more common. Online retail stores like ROMWE, FashionNova and Boohoo have gained huge amounts of loyal customers who promote their brands. According to BBC News, BooHoo alone has accumulated over 5 million customers. Sheran believes that with all these new resources, fashion has changed for the better.

"There's a lot of stores available for people, even younger kids, to dress however they want to dress, or people order online and now you can find whatever you want online," Sheran said.With the beginning of a new decade, there's a lot to expect. More changes await us with style, technology, and our overall global desire.
"I feel like it's gonna stay sorta the same, just small changes," Sheran said. "I think it's gonna end up circling back and it's gonna have something to do with maybe the 80s."