New Math, Science and Technology (MST) Advisor Hired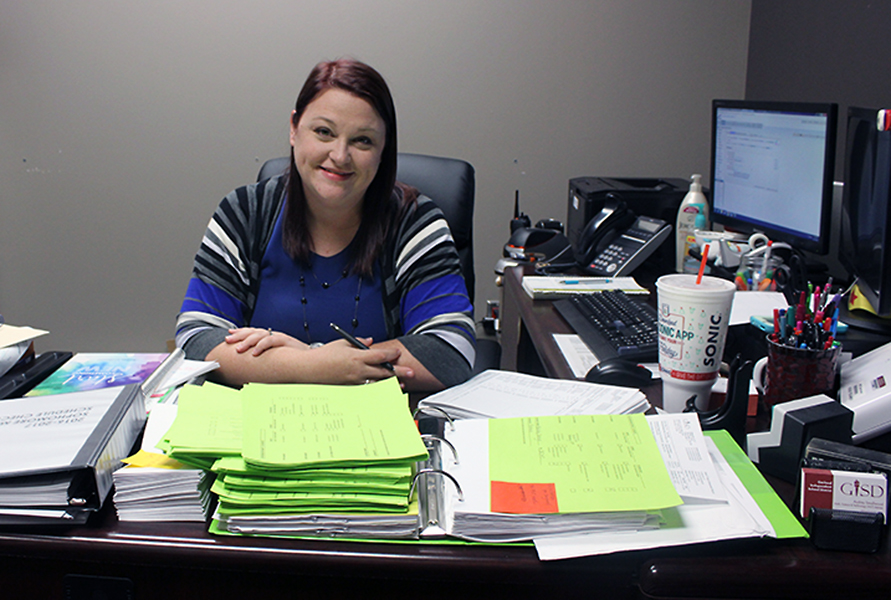 After a search of more than four months, administrators named a new MST advisor, Mrs. Audrey Smallwood, in October. The job opened following Mrs. Emilie Radoyevich's departure over the summer.
"We first put out on the district website to hire a MST coordinator when Mrs. Radoyevich got her job as a counselor," Mrs. Rosa said. "We interviewed but we didn't find anybody that we thought was the right fit for the coordinator position, and then we opened it up again and that's when Mrs. Smallwood applied."
Smallwood was ready to take a new position at North Garland as MST advisor.
"I was excited when Dr. Williams and Mrs. Rosa offered me the MST position, because it allowed me to make some changes to my career at North Garland," Smallwood said. "And the best part is I get to make this job change while staying at the school I love."
To take the job as MST coordinator, Smallwood had to resign from her past positions as journalism adviser and activity director. Broadcast journalism teacher Ms. Jessica Good took over some of Smallwood's responsibilities, and the journalism students are continuing their work as usual. However, there is no permanent replacement yet.
"Leaving newspaper and yearbook was gut-wrenching, but I'm thankful I still get to see them in the hallways and JLab visits," Smallwood said.
Smallwood wants students to know she cares about the program and is there for them.
"The nice part about MST is I have acquired more students to care for," Smallwood said. "I know that kids will see me a lot less than they see their teachers, but I want them to get to know me and see that I want to help them succeed. I want them to know I'm one more person on their team."
Part of her job as MST advisor is to assist students and teachers with their needs. At the same time, Smallwood hopes to increase communication with students in the MST program.
"I really want to look at the origins of the program and how we evolved into the current program," Smallwood said. "I want to hear what the MST students feel like they're successful in and what they're frustrated with. And if needed, I want to tweak the program in ways that benefit our students and their future."
About the Writer
Riley Sims, Co-Editor-in-Chief
My name is Riley Sims and I'm one of the Editor-in-Chiefs of the Raider Echo. I'm a senior and this is my third year on the staff. I love traveling...